Welcome to Amphibian Air
Savannah Georgia's Newest Adventure.
Flight Instruction WSCL & WSCS

See Savannah like no one else! Take an introductory flight in a FAA certified amphibious trike, ( Ultralight/Weight Shift Control/Light Sport Aircraft ), with a FAA certified flight instructor. Our open cockpit, powered hang glider is like riding a motorcycle in the sky. We will fly "low and slow" and you'll experience what it must feel like to be a bird soaring over the landscape.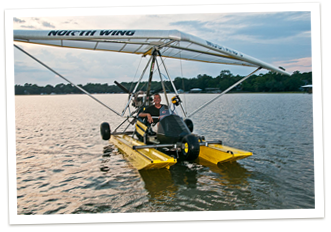 During your flight you will learn the basics of trike flying. If you want want to, and conditions permit, you can take control and see how easy it is to fly this amazing aircraft, You'll even get a certificate recording your training which can be used towards a Sport Pilot License. This is the most exciting way to see Savannah and the surrounding Low Country.
We cater to thrill seekers and scaredy cats alike! Try this "bucket list" fulfilling adventure; you'll leave with some real "hands-on" piloting time and memories you'll never forget!
Call today for more information! 912-572-8055